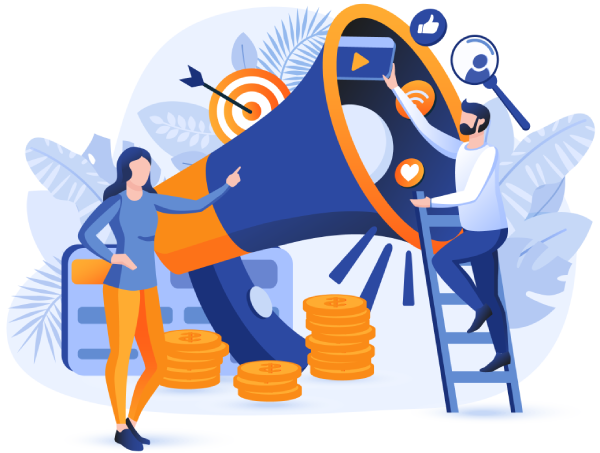 Social Media Marketing Company
What is Social Media Marketing?
Growing business socially
Using social media, you can share content on social media and forge relationships with potential new customers. It is the perfect way to increase your online visibility. There are currently 4.5 billion social media users in the world, making it one of the most significant parts of modern-day culture. By bolstering their brands, services, and products, social media helps businesses grow.
Besides being an amazing promotion tool, social media can also greatly improve your customer service efforts, since it allows you to reach out to people that you may not otherwise be able to reach through traditional marketing methods. Our social media team can strengthen your social media profiles with innovative, engaging, and data-driven touchpoints thanks to their talents in developing all forms of long and short-form material, interactive content, and targeted content. As a top social media marketing agency we help businesses in crowded market places to become leaders in their field adding millions of pounds to their bottom line.
Skyrocketing Your Social Presence
We would love to hear your social media thing
Double the impact of your social media marketing from Day 1
Why choose BrainFeed Social Media Marketing services?
Social Media marketing is a strategy that can benefit both small and large businesses because of the low-cost associated with reaching out to the right customers. Social media provides a variety of opportunities for you to market your products and services for a reasonable price. As an added benefit, social media marketing allows you to reach a large number of contacts across different locations with no additional effort or cost.
Using social media as a tool to engage with customers, increase sales, and learn more about their needs is a great way for your company to succeed. As an expert social media agency we can help you find the most effective ways to use social media. Our first aim is to keep you top of mind with your followers and increase your marketing visibility.
1. Complete Brand Control
Packages we offer for social media marketing can be tailored to the individual needs and budgets of our clients. So you will be able to set your budget, keep track of your brand, and develop a social media marketing strategy without compromising. Social media allows you to make a positive impression on your target audience and keep the campaign on track while generating an image that is valuable. We are leading social media marketing company and thus we take complete ownership of brand risibility and brand awareness over social media.
Specific Audience Targeting
The effectiveness of your content is not determined by how well it is written or how entertaining it is, but by whether or not the right audience sees it. Your target clients can be identified and categorised via social media marketing based on their age, geography, and online activities. By determining and studying your niche market, the best experts in social media marketing can better understand the online behavior of your potential customers. They then create campaigns that are tailored to these customers' preferences.
Increased Customer Confidence
Through social media, you can build deep relationships with your followers and establish yourself as a thought leader. As part of our ongoing engagement with your target market, we share useful content and engage in online discussions about your business. As an added bonus, social media video marketing allows us to present testimonials, case studies, and other content that shows the legitimacy of your brand. This type of marketing strategy is important in creating close connections with your fans and winning consumer trust.
As brands and businesses grow more reliant on social media for marketing, social media marketing has become one of the most valuable tools available. Grabbing the attention of your target audience on social media platforms such as Facebook, Twitter, LinkedIn, and Instagram can maximize your company's visibility. When you have a good social media marketing plan curated with the help of best social media management company, you can reach a wider audience online. These strategies generate engagement, social evidence, shares, and likes.
In their search results, both Google and Bing recognize that social engagement drives higher conversion rates, so both include updates, tweets, profiles, and comments. Having your content shared widely on social media will result in more traffic flowing to your website and better search engine rankings.
Social Media Marketing FAQ
Latest news form
our blog
Marketers usually focus their efforts responsible for making the purchase.
Building an official website for your company can undoubtedly open doors to new opportunities. Thus, this way, you will have a bigger audience spread across
Read More »
Brainstorming and generating an idea isn't enough, especially if you plan to create an exceptional mobile application. In fact, the mobile application market is highly
Read More »
A highly prominent website on Google has a better probability of appearing in search results for related inquiries. This isn't something that can be accomplished
Read More »