Ecommerce has changed the way people shop and consume products and services. More and more people are turning to their computers and smart devices to order goods, which can quickly be delivered to their homes. Online shopping is more convenient than ever, building an e-commerce store. Thanks to platforms like Shopify and WordPress, it's now easier than ever to create your online store. Shopify and WooCommerce are both best platforms to start your eCommerce store. It truly comes down to your personal skills and preferences. So which is the best platform for an e-commerce website…. WordPress or Shopify? 
Shopify is a good e-commerce platform that helps you build your own online store. It hosts your site and gives you all the tools you need. Shopify is a lot easier to use. It doesn't require to install any other things, and you can start quickly.
Payment setting is more accessible, and this is easy-to-understand pricing plans. Here users without any technical or design skills can create a store themselves. You don't have to know how to code to use the platform. It's purpose-built for e-commerce web development, so all the sales tools you need are set up for you. 
But Shopify is very limited. Here you can only do what their API allows apps to do, and most apps are paid. If you want to write your own app using their API, it's not budget or time-friendly. They control what features you get, how many users you can have, etc.
Your costs can go high with transaction fees and integrations. In addition, your upgrade options are limited to select plans, and you cannot manage costs on a pay-as-you-grow basis. If you want to change your theme, you will have to reformat.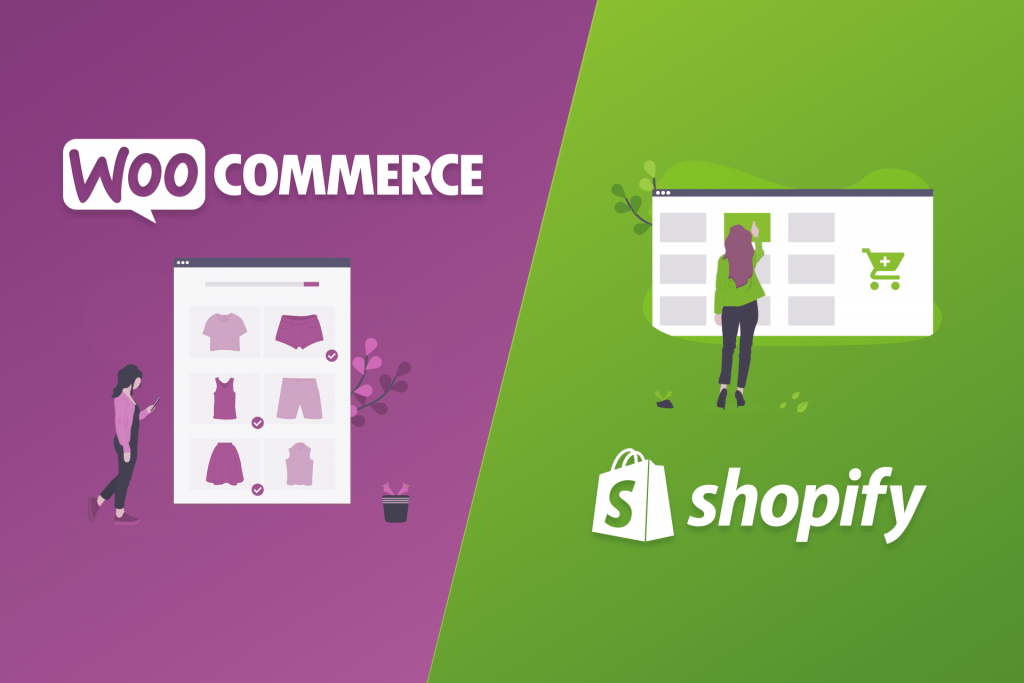 On the other hand, WordPress is free and open-source. You need to host your own site and install plugins like WooCommerce for e-commerce tools. Here you can control everything using actions and filters, unlimited admin users, direct and easy access to the database, and integration with anything using thousands of quality free or paid plugins. You are the boss of your finances, and it's only up to you to decide whether to spend anything extra on website management.
Let's go through the advantages of WordPress website in more detail:
It's a go-to option for startups and small businesses to create an online selling platform. WordPress has several different eCommerce solutions: WooCommerce, EDD, Bookly, etc. You can also look through thousands of WordPress plugins created to make your entrepreneurial life more accessible and pick an appropriate solution that helps you run your business in a semi-automated manner.
The WordPress site is more flexible. Here you have the freedom to choose your desired theme from a wide variety of professional-grade and high-quality themes. You can customize the various sections like header, footer, checkout, product pages, and so on. It would very simple if you have CSS, HTML, and PHP style code knowledge. It can be easily moved between different servers.
WordPress with woo-commerce is much more powerful. You can create web stores with WooCommerce to sell both physical and digital products. You can also add products regularly and set different product types. Likewise, with WordPress-centric user interface, you can keep track of current stock levels and manage day-to-day inventory.
WordPress is probably the best platform for content creation and management. It is crucial for SEO and organic traffic. You can optimize your site by selecting any plugin or extension you feel most comfortable with. Further, the extensions and plugins undergo regular updates, making them secure and efficient at all times.
It has multiple payment gateways and shipping options. In addition, customers living in various locations and countries can pay in their specific currency. This makes shopping very easy and convenient.
WordPress itself is pretty secure. However, a strong WordPress security team is working on possible exploits and patching them ASAP whenever one is found.
It is user-friendly and well documented. This is why it is widely used across the globe as the platform supporting various commercial websites, business blogs, and other sites. In addition, it has an absolutely fantastic Codex that covers all the aspects of WordPress installation, setup, and use.
It is more powerful and flexible than Shopify, allowing for total customization. In addition, there are a vast amount of helpful resources online, both from user forums and professional developers.
Every Shopify theme comes with social media icons, Plus, you can sell across Facebook and Instagram. However, most of Shopify's social media integrations require installing an app first. This is also the case with WordPress, but again, you'll have many more options to choose from in the WordPress plugins store.
Every e-commerce platform has a learning curve, but Shopify has a slightly steeper one. WordPress comes with a bit of a learning curve. However, millions of beginners are already using it, and they get over the learning phase very quickly.
Shopify is like renting retail space; WordPress is like owning the building. WordPress is the best technical platform and thrilling solution to launch a drop shipping store or start any other eCommerce venture. However, if you are looking for a cost-effective solution and want to have full control of your online store, WooCommerce is the best platform for you.